Niamh Murphy – Escape to Pirate Island
(Historical f/f romance)
dnf
At the start of the book, Cat, one half of the designated couple, is on a smuggling mission that goes badly wrong and gets a lot of her comrades killed. Lily, the other half, just lost her father and he left her seemingly nothing but a huge mountain of debt. So, neither of them is in a very good place emotionally…and that was in no way conveyed by the narration. Sure, we got occasionally told that they were Really Very Sad but it never felt like it because there wasn't to much time spent on it. We just got a lot of action-scenes and I grant the author that they were good. Only, well-written action scenes can only get you so far if they involve characters I don't care about. And I didn't really care about *checks notes…how were they called?* Cat and Lily.
Besides, the author seems to think you can make your dialogue old-timey by characters happily switching between Ye, You, Thou and Thee without any consideration of the fact that they were used differently.
I feel when trying to find good historical f/f romances the inofficial moto is:
---
Melissa Scott – Fair's Point (Astreiant #4)
(Fantasy m/m mystery romance)
A fun day at the races
Another fun entry in the series but also one I can't say much more about that I haven't already said about the previous books. I'm always there for murder meets magic and this magical murder has likeable characters and a really cool world 😉
Dogs are involved in this books so I have an excuse to post this gif (psst…it's actually a wolf but we don't really care, do we?):
---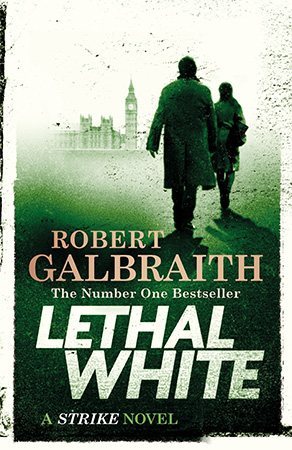 Robert Galbraith: Lethal White (Strike #4)
Crime fiction
4/5 dark family secrets
It takes almost 300 pages till a murder happens. (Well, a fresh murder, there is a perhaps-murder that happened long ago that Strike isn't supposed to be investigating and that mostly stays in the background). I did not miss anything in these 300 pages and actually only realised that I had been glued to a story that was 'just' about blackmail a few pages after the murder. The mystery was just so engaging. It did remind me a lot of Agatha Christie: a highly dysfunctional family (and some people connected to them) with lots of secrets and grudges and the investigator has to figure which of those are connected to the crime. (There was more blood and general ugliness than in the average Christie, though).
And that is what I want from my crime-novels: a good puzzle. Of course, Strike's and Robin's private life still features prominently but it never overwhelms the story (a reason I gave up on so many crime novels).
I could have done without certain parts of the ending but that didn't ruin my reading experience too much.
And it was a very nice murder.