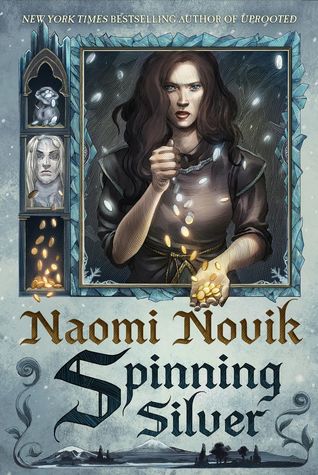 Naomi Novik: Spinning Silver
(Fantasy)
7/7 magical golden coins
This book was beautiful. I love fairy tales and fairy tale retellings but the latter can come over a bit creepy when the author copies things from the original too closely (complete a quest, get the girl even though you never talked to each other before). But Spinning Silver isn't just a Rumpelstilsken retelling. Of course, it takes a lot of inspiration from it – as well as from Cinderella and many other tales but it turns it into something completely new and different.
---
Aliette de Bodard: In the Vanisher's Palace
Sci-fi f/f romance
(Sadly) not my cup of world-ending tea
Talking about books inspired by fairy tales: In the Vanisher's Palace is a retelling of Beauty and the Beast and that is certainly a story that can come over not too great if you don't pay attention. But the author did pay attention and clearly put a lot of thought into the whole 'You have to live in my palace now and if you don't want to that's your problem'-bit. And I really enjoyed the way it was treated in the book. I liked the characters. There were dragons. But I'm just not really into post-apocalyptic stories and this book is 'hard' post-apocalyptic. As in: you can't just ignore it for most of the story. Which is great if you like it because authors just paying lip-service to a genre when the story could just as easily have taken place anywhere else is usually disappointing. But in my case, it just reminded me over and over again that I don't care much for that genre.
---
Anthology: Teacher's Pet Volume 2
Romance-anthology
Not my cup of healthy green tea
In short: I started this with the exception there would be rather diverse settings in the stories (contemporary, fantasy, historical) but got three fantasy stories and the rest contemporaries, which isn't my thing at all. And even the fantasy stories didn't overwhelm me that much. A more comprehensive review is over at Love in Panels.