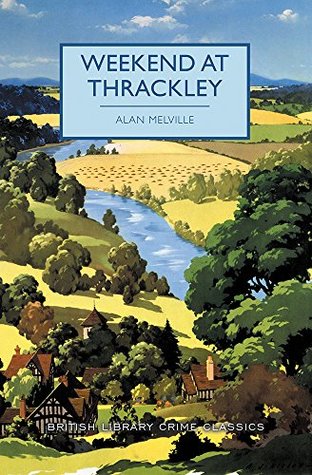 Jim Henderson is one of six guests summoned by the mysterious Edwin Carson, a collector of precious stones, to a weekend party at his country house, Thrackley. The house is gloomy and forbidding but the party is warm and hospitable – except for the presence of Jacobson, the sinister butler. The other guests are wealthy people draped in jewels; Jim cannot imagine why he belongs in such company.
After a weekend of adventure – with attempted robbery and a vanishing guest – secrets come to light and Jim unravels a mystery from his past.
Rating: D
"If it weren't for the fact that we were just starting lunch, I should kill you quite cheerfully, Brampton."
"Well, we are just starting lunch, so that's quite out of the question," said Lady Stone.
Weekend at Thrackley isn't a whodunit; that is clear from very early on. And not just because the person in question gets described as sinister-looking and ugly as soon as he appears. We also know that he is the bad guy because there are chapters from his POV.
In the first of those he is standing in his evil lair.
That is filled with the jewels he has stolen.
And that has an elaborate hiding/locking mechanism that means only he himself or people he wants to enter can get in.
And from which he can listen to everything that is going on every room in the house because he had microphones installed there.
Dear Reader, this is a very silly book. But not in the charming over-the-top way Edgar Wallace movies are. Or Farjeon's Seven Dead. Apart from a handful of genuinly witty pieces of dialogue it's quite stupid and dull. The plot relies mostly on coincidences: the hero just happens to be at the right place at the right time to overhear the right thing/stumble over the right thing/find the hidden microphone in his room.
Meanwhile, the villain just happens to overhear the right things and the right time as well. Mind you his elaborate surveillance machinery doesn't include recording devices so he just jumps from one room to the next, listening in and hears just the thing that stops the book from being over after 100 pages.
It's just too much. The coincidences don't just make things harder or easier for the characters. All major developments in the story just happen because of ridiculous coincidences.
Part of that can certainly be blamed on the fact that the story is meant to be somewhat humorous/a parody. There is the already mentioned witty banter and there are funny scenes: before the hero leaves, his landlady tells him to be careful because weekends in the countryside frequently end in murder. And I could deal with a mostly coincidence-driven plot in a full-blown parody but for that the rest isn't funny enough. There is one character who is an over-the-top caricature but all others – including the hero – are just bland and forgettable. So it's too dull for a parody and to ridiculous for a good mystery.